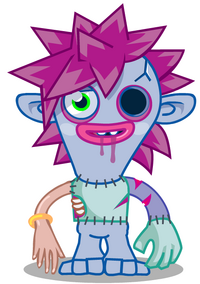 Zommer
is an adoptable monster in Moshi Monsters. They are the least adopted monsters in Monstro City. They are based from zombies, hence its looks and name. They have a rocking personality and have one eye (they try and steal other Monsters' eyes).
Language
Zommeranian
Likes
Rock and Roll and Grossness.
Dislikes
Nice music and luvliness.
Trivia
Zommers are the least popular and the least adopted monster.
Gallery