Weeny 
the Teeny Genie is an uncommon Moshling in the Naughties set.
Personality
Fickle, enchanted, and funny.
Biography
Your wish is their command! Well that's the idea but Teeny Genies are so mishchevious they will only grant three wishes who can moonwalk on their heads and pat their heads at the same time. And don't bother rubbing a Teeny Geeny's lamp because you will probaly get a faceful of enchanted bubblegum!
Combination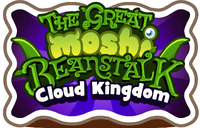 Likes
Treasure and blowng bubblegum.
Dislikes
Wonky Wizards and sesame crackers.
Habitat
Check out your loft, there could be a Teeny Genie hiding in an old bottle of Wobble-ade. Failing that, try the Caves of Shazam.