Vinnie
the Glamster Hamster is an uncommon
Moshling
in the
Hipsters
set, who is a hamster themed to glam rock. 
Personality
Wild, vain, and talented.
Biography
Are you ready to rock? Good, because Glamster Hamsters are the hair metal loving Moshlings that wanna rock 'n' roll all night and party every day. When they are not playing air guitar or squeezing into spandex pants, these wild critters like screaming old Snotley Goo tunes while cruising along Main Street on customized trikes.
Combination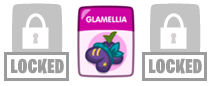 Enter the code "2014" to obtain the Glamellia.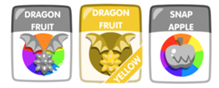 Likes
Buns 'n' toasties and hairspray.
Dislikes
Goo Fighters and brown candy.
Habitat
You will find Vinnie at the Boulevard of Broken Custard Creams but they also hang out near the make-up counter in Harrods.
Trivia
Vinnie features in the Series 8 Figures.
He was thought to be a hedgehog, hence his long nose and spikes.
He plays air guitar when you click on him.
Galery
In-Game