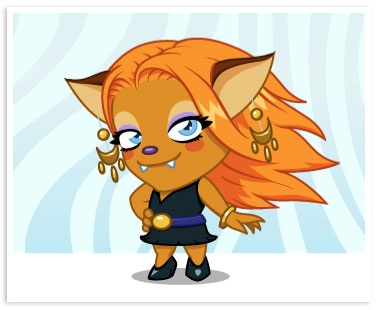 Tyra Fangs is a loved celebrity on Moshi Monsters. She is a celebrity judge at the Underground Disco along with Simon 
Growl and Roary Scrawl. She often gives you the highest score. Roary has a crush on Tyra and back in 2009.
Roary took her to Bleurgh Beach and again this year for Valentine's Day. She owns the recently released, Tyra's Spa which is on Ooh La Lane. Tyra Fangs hasn't been seen in any Super Moshi Mission.
She is known to be Jeyonce's best friend! She has starred in the hit movie Banana Montana. She is a great monstar. She is a parody of Tyra Banks. She is the host of Monstro's City Next Top Monster.