Truffle

Set
Woodies
Number
208
Species
Splendid Sproutling
Rarity
Rare
Truffle
the Splendid Sproutling is a rare
Moshling
in the
Woodies
set, who is a seed. 
Personality
Biography
Is that a mini beanstalk ising skywards from each and every Splendid Sproutling's head? No one knows for sure because these cute critters spend most days snuggling in magical soil. And when they do venture into Monstro City they wrap their mysterious green shoots in cling film.
Combination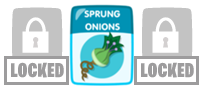 Sprung Onions is obtained by entering the code 'BEANSTALK60'. Sprung Onions are also obtained by purchasing the Carte Blanche Moshlings Collection Truffle Plush and entering the code that comes with it.
Likes
Potting sheds and the name Jack.
Dislikes
Rummaging Plotamuses and strimmers.
Habitat
Dig around the base of a Moshi beanstalk and you might unearth a few Splendid Sproutlings. Failing that, look in the greenhouses of Petal Park.
Gallery
In-Game
Merchandise
Figures
Plush Toys