Topsy Turvy
the Tardy Timer is a common Moshling in the
Nicknacks
set.
Personality
Unpunctual, harried, and restless.
Biography
Time waits for no Moshi, especially Tardy Timers because they are always running late. And that's weird because the powdered egg running through their hourglass figures is rumoured to tickle their tummies whenever they are delayed. Then again,you'd probably be late too if you spent all day doing handstands yelling 'Ooh,it tickles!'
Combination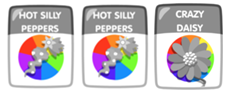 Likes
Runny eggs and hot eet.
Dislikes
Digital Watches and sand files
Habitat
Tardy Timers can be found at Flippity Trip Farm but you occasionally see them standing on their heads at train stations.
Trivia
Topsy Turvy is featured in the Series 6 Figures.
Topsy is also in the same set as Peeps, in the Nicknacks.
Gallery
In-Game