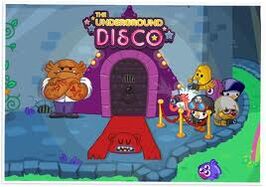 The Underground Disco is a night club located in the Underground Tunnels which are under Monstro City. You must be a Moshi Member to access and play the Underground Disco game. You can choose to play easy, medium, or hard and you can unlock up to twelve songs. The object of the game is to hit colorful arrows at the correct time to make your monster dance. Then, you are judged by Simon Growl, Roary Scrawl, and Tyra Fangs. 
How to Play
Get ready to dance! Arrows will come down the track in time with the music. When an arrow gets to the bottom of the track, press the matching arrow on your keyboard to make your monster boogie. The more precise you are, the higher your score will be. Sometimes you'll have to hit more than one arrow at once. Keep your eyes peeled! 
Songs
Rock Like A Zommer, by Zommer
The Fall (Parody of The climb by Miley Cyrus) , by Banana Montana
Bred to Toast, by Taylor Miffed
Growliwood, by The Groanas Brothers
Moptop Tweenybop (My Hair's Too Long), by Zack Binspin
Peppy-razzi (parody of Papparazi by Lady GaGa, as ex-moshling Lady GooGoo used to sing this Underground Disco song), by Baby Rox
Forgot to Walk, by the Goo Fighters
Catch a Pitch or Try Cryin', by 49 Pence
Peppermizer (parody of Womanizer by Brittany Spears), by Broccoli Spears
Pipe Down, by the Pussycat Poppets
Monstrocity, by the Fizzbangs
Simon Growl is the meanest judge and Roary Scrawl is the nicest.