Sweeney Blob
the Splodgy Sucker is a common
Moshling
in the
Sploshies
set, who is a pink blob.
Personality
Biography
Fling open the curtains, quick! These gloopy critters just love suctioning themselves to windows and listening in on the citizens of Monstro City. How rude! The only way to get rid of a Splodgy Sucker is to flush the loo because rumour has it they were once used as toilet plungers and still hate that gurgly noise to this day.
Combination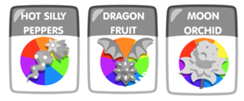 Likes
Eavesdropping and licking drain pipes.
Dislikes
Toilet bowls and air fresheners.
Habitat
You will normally find him glooped to windows but this Splodgy Sucker also likes hanging out under the pier at Breadcrumb Bay.
Trivia
He is featured in the Series 6 Figures.
He was first featured in the Moshi Monsters Magazine, on a poster along side other Moshlings.
He spins and splats when clied on.
His names spoofs Sweeney Bob.
Gallery
In-Game