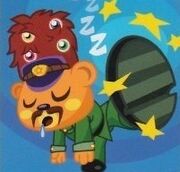 Stashley Snoozer is a brown bear that guards the Port, he is often seen sleeping. Maybe someone could sneak into the Port when Stashley Snoozer is sleeping!
Bios
It may seem like Stashley Snoozer is always fast asleep, but he's actually keeping track of things with his furry hat! With four eyes in front of his curious cap, Stashley Snoozer is totally aware of everything that's happening on Main Street. Naughty monsters, watch out!
On guard!
Stashley Snoozer is very well groomed, except for the scruffy hair on his hat! When he's awake he stands to attention, but it's hard to take Stashley Snoozer seriously with his hilarious handlebar moustache.
Efficient snoozing
Stashley Snoozer is the greatest multitasking monster in all of Monstro City. He slouches on his stool, puts his paws up and catches 40 winks. Despite this, he is still able to keep an eye out for trouble on Main Street, thanks to his hat.
Species
Sleeping Gaurd
Hangout
Main Street
Catchphrase
Eye can spy you!
Hobbies
Snoring, polishing boots and ironing his uniform.
Often spotted
Almost falling of his stool.