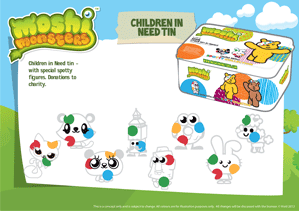 The Spotty Moshlings Collector Tin is a limited edition tin confirmed here. There will be eight spotty styled Moshling  figures who are also the gold figures in the second gold tin.
Mind Candy and the Vivid Toy Group have pledged to raise £90,000 for BBC Children in Need's appeal via the sale of a limited edition Spotty Moshlings Collector Tin.
The tin will go on sale in October, and only 30,000 of the tins will be sold with £3 per tin going to the BBC Children in Need.
Neil Bandtock, MD of Vivid UK, said: "Following on from the hugely successful Goshi Moshi Collector Tin last year that raised a huge amount of money for Great Ormond Street Hospital, we felt that BBC Children in Need would be a perfect encore. This is a perfect win-win for everyone because Moshling collectors love these highly limited editions and BBC Children in Need is a well-loved charity that makes a difference to the lives of children and young people all across the UK."
Sam Ferguson, head of licensing at Mind Candy, added: "We're delighted to work with Vivid on this initiative. The Spotty Moshlings look great so we hope to please our fans as well as raising funds for a very worthwhile cause.
Figures