Splatter

Set
Arties
Number
129
Species
Abstract Artsie
Rarity
Uncommon
Splatter the Abstract Artsie is an uncommon Moshling in the Arties set.
Personality
Biography
Is it art or an utter shambles? Who cares because every Abstract Artiste's ambition is to win the coveted Blurgh-ner Prize For Bafflingly Bonkers Art. That's why these crazy Moshlings spend all day flicking gluey glitter at passers-by and pickling slices of Oobla Doobla in huge tanks of fluorescent jelly. Magnifique!
Combination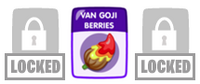 Likes
Emptying bins over unmade beds and finger painting.
Dislikes
Anything in the Googenheim and art critics.
Habitat
Go to Beret Boulevard and you're sure to find a few Abstract Artistes arguing about the merits of nose painting with marmalade.
Trivia
Splatter's name comes from what is often done with paint; splattered.
Splatter features in the Series 10 Figures.
Splatter will have a seed combination later in the year, which means everyone will be able to catch him.
Gallery
In-Game
Merchandise
Figures