Slurpy/Basic Info

Set
Yuckies
Number
143
Species
Lickity Lizard
Rarity
Rare
Slurpy
the Lickity Lizard is a rare Moshling in the Yuckies set.
Personality
Potty, irrational, and harebrained.
Biography
Never lick a Lickity Lizard as their mint-flavoured skin contains magical slime that temporarily sends you crazy. Unfortunately, this doesn't seem to stop these swamp-dwelling Moshlings from licking themselves! Maybe that's why they are always pulling stupid faces, leaping around like loons and gargling playground songs with dirty dishwater.
Combination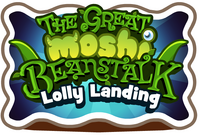 Likes
Dancing on the ceiling and crawling up the walls.
Dislikes
Mouthwash and house flies.
Habitat
Lickity Lizards enjoy playing in the tall reeds of Dingleweed Swamp.