Shelly

Set
Nutties
Number
012
Species
Nattering Nutling
Rarity
Common
Shelly
the Nattering Nutling is a common
Moshling
in the
Nutties
set. 
Personality
Biography
Completely nuts? Not exactly, but Nattering Nutlings are definitely crazy... about Moshi celebrities! And that's bad news for me, because thanks to my best-selling guidebooks, I'm a household name these days. Whenever I get close to one of these gossipy Moshlings, the first thing it does is flutter its eyelashes and ask for an autograph before running off screaming. Goodness knows how a Nutling would react if it bumped into a proper star like Zack Binspin. When they're not singing Music Rox songs in front of the mirror, Nattering Nutlings love chattering to each other about the hottest new gooperstars.
Combination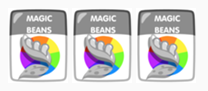 Likes
Gossip columns and jam.
Dislikes
Salt and Cheeky Chimps.
Habitat
Nattering Nutlings can usually be found flicking through the latest Ruby Scribblez book in Goober Gulch.
Trivia
Shelly was featured in the Daily Growl in a blurry photo on Sludge Street.
Her seed code was first seen in the the November Issue of Moshi Magazine, along with Oompah's.
She is featured in the Series 4 figures.
Gallery
In-Game