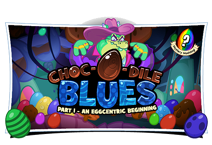 Choc-O-Dile Blues
is a 3-part mission featuring
Biggie Diddles
. It is the second Season 3 Mission.
Walkthrough
Part 1: An Eggcentric Beginning 
You start by meeting Elder Furi, he tells you that there is a shortage on chocolate eggs, you must search the chocolate refinery on Main Street. Click the chocolate refinery door, Bjorn will then say it's off limits, select why do you look so sad, he will reply with that he's hungry. Pick up the sandwichs from behind the basement door and behind the statue, get the chocolate from beside Pete, get the oobla doobla from the bush and get the radish from the ground, give it all to Bjorn. Now select Judder , pick "I need to get into the chocolate refinery, you will then pick him up, now place him on Ken (the blue roarker). Now they are distracted you can enter the chocolate refinery, now pick up the purple wheel from next to the ladders and place it on the purple valve, now turn it. Next get the blue one from infront of you and place it on the blue valve, turn it. After that get the orange wheel from beside the pipe and place it on the orange valve and do the same. Switch the machine on by pressing the coloured button that the arrow is pointing to, do the same with the other ones. The glumps with then approach you...
Part 2: Wake Me Up Before You Co-Coa!
You find your monster was put into an egg mold, about to be made into a chocolate egg! You call over to Marcel and try to get him to help you. He agress and you must find chocolate eggs that Marcel can sneak to the guarding glump to make him go to sleep. Finally, the glump is asleep, but Marcel is too late. You struggle as the chocolate egg mold your trapped in slowly fills up with chocolate. The mold cracks open revealing a giant chocolate egg. Marcel decides not to waste such fine chocolate and eats the egg up quickly. You're safe! You tell Marcel about the dissappearance of the chocolate eggs. Marcel agress to take you to Biggie Diddles mansion...
Part 3: Better Choco-Late Than Never!
TBA
Rewards
Part 1
Part 2
Part 3
Characters
Super Moshi
Rocko
Fishlips
Fabio
Ned