Pooky

Set
Dinos
Number
050
Species
Potty Pipsqueak
Rarity
Uncommon
Pooky
 the Potty Pipsqueak is a uncommon
Moshling
in the
Dinos
set, who is a dinosaur hatchling.
Personality
Playful
Imaginative
Silly
Biography
With their cracked eggshell helmets, Potty Pipsqueaks are often mistaken for newly-hatched Moshlings. They claim they wear this strange headgear to protect themselves from Killer Canaries. But why would Killer Canaries want to attack? Simple, the eggshells belong to them! Potty Pipsqueaks steal them so that they can pretend to be racing drivers and spacemen.
Combination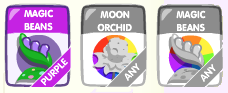 Likes
Jurassic Bark and action figures.
Dislikes
Washing their paws for dinner and sausage skins.
Habitat
Potty Pipsqueaks come from Make-Believe Valley, but many can be found playing in cardboard boxes disguised as spaceships, fire trucks and tanks.
Trivia
Gallery