Nutmeg 
the Woodland Walnut is an uncommon Moshling in the Nutties set.
Personality 
Staunch
Passionate
Caring
Biography
Serious nature nuts, these eco-friendly Moshlings are always trying to protect the Moshi environment from interfering Monsters. When they are not hugging trees or whistling folk music to endangered naffodils, Woodland Walnuts enjoy shining their leafy ears with organic dewdrops.
Combination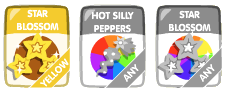 Likes
Gardening shows and orienteering.
Dislikes
Threshing machines and petrolheads.
Habitat
You can find Nutmeg in the tall grass of Wiggledeed Woods but they are often out in Buster Bumblechops' secret bio-dome.
Trivia
Nutmeg's name comes from the word nut and the prefix of the name 'Megan', giving the name Nutmeg.
Gallery
In-Game
Merchandise
Plush Toys