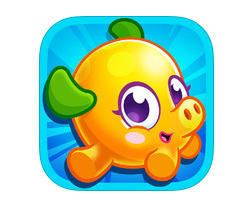 Moshling Rescue! is a three-match application. The application is designed for 13 year olds and up, and has over 120+ levels for lots of gummy fun.
Release Dates 
December 4th, 2013 - Phillipines
March 12th. 2014 - Canada
April 10th, 2014 - Malaysia and Ausralia 
May 11th, 2014 - Facebook for everyone
Description
When Big Bad Bill and his mischievous Woolly Blue Hoodoos trigger an eruption on the volcano, Monstro City is buried under a shower of gummies! Can you dig the town out from its sticky prison and rescue the Moshlings trapped inside? You'll be joining Monstro City's newest hero, Ellie, as you explore unique game modes and spectacular new worlds. You can play your way through dozens of mind-bendingly moreish Moshi match puzzles, with many more on the way! You'll need to beat back Big Bad Bill in talent-testing Boss levels and conquer the Home levels to lead Moshlings to freedom; all while executing perfect combo-matches to create awesome, explosive chain reactions!
Jump in to help your Facebook friends or compete for the top spot in your own Moshling Rescue league! To unlock permanent boosts you'll need to venture off the main path and play special bonus levels.
Join in the fun now!
Boosts
Blockers
Gallery
App Store
Artwork
Facebook