Freezy Riders
was a short mission that ended on the 14th of February, it was the January/February mission. It featured Tomba and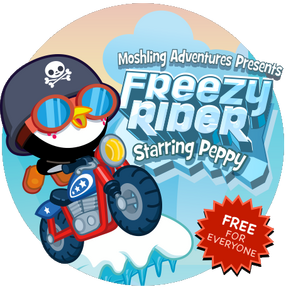 Peppy.
Available When/From
31st January - 15th February
Walkthrough
You start off by watching Peppy (you) trying to perform a stunt and then you make some ice sculptures to cheer yourself up and after that the Freezy Riders come along and metion that you don't have the skill to join them but they say that they might let you if you can find the hideout, Tomba then tells you that he knows where it is and says Tell me when you wanna go, don't select Let's Go just yet, scroll to the left and look in the bottom corner to find the first EPIC. Then go to the hideout, open the draw to get the 2nd EPIC, next and take the pilachard pop, next turn the switch to distract the riders, plae the pilachard pop in eirther the teapot or cellar. After that you will be taken to a minigame in which you have to press the arrows in a sequece to preform a trick, if you get a perfect score you will redeem the last EPIC shortly after. Next the riders mention that you can join the group but you refuse to because they have been hurtul to Tomba, next you will finish the last ice block to reveal the new Moshling.
Reward
Characters
Peppy
Tomba
Blingo (Sculpture)
CocoLoco (Sculpture)
I.G.G.Y. (Sculpture)
Fish Lips (Frozen)
Freezy Riders
Long Beard
Trivia
This mission has a moral, Always be loyal to your friends!
It was meant to expire on the 14th of February, but instead, it expired a day later on the 15th.