Misty

Set
Arties
Number
130
Species
Playful Pfft Pfft
Rarity
Rare
Sound
Misty the Playful Pfft Pfft is a rare Moshling in the Arties set.
Personality
Biography
Spraying pretty patterns sounds like a pleasant enough hobby but Playful Pfft Pffts can't help puffing paint over everything in sight. After all, why say it if you can't spray it? Thankfully, hip gooperstars such as Blingo are starting to use these canny characters to decorate their cribs with funky artwork. (Always shake before use).
Combination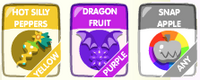 Likes
Being shaken up and big blank walls.
Dislikes
Blocked nozzles and pins.
Habitat
CanCan Canyon but some Playful Pfft Pffts spray far away from home near the Googenhiem.
Trivia
Her name comes from the mist created by a spraycan.
She was first seen at the London toy fair as a figure.
She shares one dislike with Sprinkles, blocked nozzles.
It was first proven she was in the Arties in Moshi Monsters Magazine: Issue 29 when it states 'She is the newest member in the Arties set.
She was released in August 2013.
She debuted in The Summer Of Moshlings. 
Her figure is available in the Arty Poppet Goes Figure Set.
She featured as a guest at Simon Growl's Art Party.
She features in the Series 10 Figures.
Gallery
In-Game