Micro Dave
the Popty-Ping is an Ultra Rare
Moshling
in the
Techies 2.0
set.
Personality
Biography
What's cookin'? Why, it's a Popty-Ping! Often mistaken for Grinny Goggleboxes, these jolly Moshlings are the hottest critters in town. Ask one to heat up some Gloop Soup or defrost your Mutant Sprouts and it will be glad to oblige. It might even give you a high-five - but take care because those oven mitts get really hot. Ping!
Combination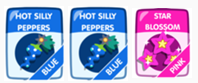 Likes
Baked potatoes and instant meals.
Dislikes
Anything made of metal or steel because it makes him spark.
Habitat
Popty-Pings enjoy sitting on top of each other in the storerooms and warehouses of Stackem Anrackem Ridge.
Gallery
In-Game