Lurgee
the Sniffly Splurgee is an uncommon
Moshling
in the Yuckies.
Personality
Biography
Please wash your hands, Sniffly Splurgees are highly infectious – in a good way, because despite the constant coughs and sniffles these friendly, bacteria-loving Moshlings soak up germs and viruses,keeping the world of Moshi bug-free. In fact the only downside to owning a Sniffly Splurgee is that they stink of cough syrup. Yuck!
Combination
To obtain the Spurgee Burdock, you must enter the code "SNOWFLAKE"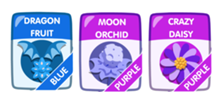 Likes
Eating tissues and collecting new viruses.
Dislikes
Cold flannels and hand sanitiser.
Habitat
Sniffly Splurgees can be found lurking in the Municipal Used Tissue Dump just outside Spewport Beach.