Jiggles the Fiddly Twiddlestick is an uncommon Moshling in the Techies 2.0 set.
Personality
Excitable
Misty-Eyed
Sociable
Biography
Ask a Fiddly TwiddleStick its favourite game and it will bore you with tales of the good old days with basic blippity-blop video games were all the rage. Maybe that's why these sentimental Moshlings are always asking Monsters to grapple with their clunky joysticks and pummel their buttons for old times' sake.
Combination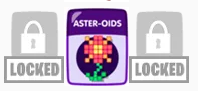 Likes
New high scores and teak veneer.
Dislikes
Sticky fingers and greasy blister cream.
Habitat
You will be sure to find them in Vidiot Valley but you sometimes see Fiddly TwiddleSticks in the Games Starcade on Sludge Street.
Gallery
In-Game