Hoolio
 the Creepy Crooner is an ultra-rare
Moshling
in the
RoxStars
set.
Personality
Sepulchral, tuneless and mysterious.
Biography
He is dead good on the guitar, Creepy Crooners are the wandering minstrels who love playing mournful mariachi music,especially when there is a full moon. With their colourful make up and snazzy outfits they can often be found in posh Moshi restaurants serenading diners, handing out dead roses and collecting tips in their hats. How romantic!
Combination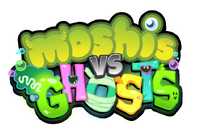 Hoolio can be obtained by collecting 10,000 Ecto Gloops in the Moshis vs Ghosts event.
Likes
Piñatas filled with bugs and rotten tortillas 
Dislikes
Daylight and decent melodies.
Habitat
Hoolio can be found at Dearly Departed Drive where you are sure to find a few Creepy Crooners de-tuning their guitars.