HipHop
the Blaring Boombox is an uncommon
Moshling
in the
Tunies
set.
Personality
Biography
Say 'wassup' to Blaring Boomboxes the playful noisemakers who just can't stop rockin' to the bang beat boogie that blares from their speakers day and night. Obsessed with old-school tunes, they love sharing their music with other Moshlings- and that can be mighty annoying as Grandmaster Bash and his Furious Hive (Legendary Moshi Rapper with a beehive hairdo) is no longer popular in Monstro City.If you're feeling daring you can always reach for the 'stop' button (every Blaring Boombox has one on it's head.) Just make sure you don't press 'record' as this causes them to lose their memory.
Combination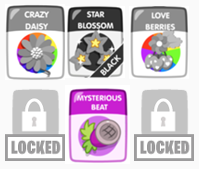 Likes
Skipping rope and bustin' rhymes.
Dislikes
Flat batteries and MP3s.
Habitat
TinnyTone Boulevard, but they've been spotted hanging out Hipsta Hills with Flashy Foxes.
Trivia
His first design was released in 2008 and was nick named Radio Ed.
HipHop was first seen on the second sticker album in 2012.
Hiphop was also seen in Zack Binspin's music video of 'My Hairs Too Long' when Blingo was rapping.
From 22nd March to 25th March 2013, HipHop could be attracted with the Mystery Beat.
HipHop was be hatched from a Moshling Egg in January 2013.
HipHop was realesed at the same time as Shelly and Oompah.
There are three ways to get him, two have expired.