Gracie 
the Swishy Missy is a common
Moshling
in the
Snowies
set.
Personality
Talented, determined, and graceful.
Biography
Get your skates on! If you wanna catch a Swishy Missy you'll need to be an expert the ice because these figure-skating moshlings are unstoppable! When they're not twirling, jumping or performing toe-jumps on the Frostipop Glacier, Swishies are, erm, pretty clumsy. That's because they refuse to take their magic skates off, even at bedtime.
Combination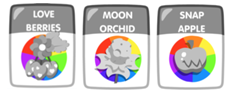 Likes
Sequins, heavy eye make-up, her skates and tiara.
Dislikes
Low scoring judges, slush and shoes
Habitat
You can often spot the glint of a Swishy Missy's magic tiara on the Frostipop Glacier but these graceful Moshlings can be found anywhere, skates and all!