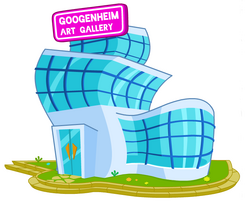 The Googenheim Art Gallery is an art gallery on Ooh La Lane. It's a swavy building made out of glass with a purple sign and holds artwork drawn and designed by monster owners around Monstro City. Inside, there are three sections, the Gallery, the Art Challenge and the Hall of Fame.*The gallery is full of art work that doesn't fit in with the art challenge and that hasn't been show on the Daily Growl.
The Hall of Fame is a hall of artwork that has been featured on the Daily Growl.
The art challenge is where the Curator says a theme, for example 'Draw your favourite Moshling!', the art work in the gallery would be drawings of favourite Moshlings.
Trivia
Secret codes where hidden in the gallery in 2012, an example of an item given out is the Rainbow Chair.
Submitting art is the only way to obtain the Googenhiem Power Pallet.
In April and May 2013, the Googenhiem went missing. It turned out that it was used as a shell for a giant crab. This happened in Season 3: Mission 3: The Googenheist.
There is a Pick Your Path book based upon the Googenheim; it is called the Great Googenhiest, like the mission.