Gigi
the Magical Mule is an Ultra Rare
Moshling
in the
Ponies
set.
Personality
Bewitching, charming, and graceful.
Combination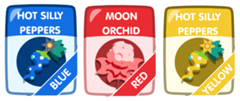 Biography
Magical Mules are powerful moshlings descended from enchanted carousel horses. Maybe that's why they trot along humming fairground tunes, gliding up and down as if still on a merry-go-round. These elegant gee-gees can even create rainbows. Magical Mules are unique because their unihorns are actually ice-cream cones held on by licorice shoelaces.
Likes
Wild fluttercups and making magical daisy chains
Dislikes
The smell of diesel and boiled onions
Habitat
Magical Mules eat wild fluttercups and cotton candy you can only find in Crystal Grotto near Copperfield Canyon.