Flumpy
 the Pluff is a rare
Moshling
in the
Fluffies
set.
Personality
Cheerful, care-free, and big-hearted.
Biography
Monsters often say that Pluffs are the most chilled out of all the Moshlings. It's hard to disagree when you see them strolling through the Cotton Clump plantations, arms dangling at their side, huge grins on their face with not a care in the world. If you want to chillax, then look no further.
Combination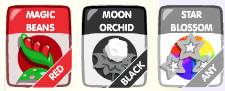 Likes
Rubber gloves and furniture polish
Dislikes
Clutter and the smell of damp
Habitat
Pluffs originally come from the Cotton Clump plantations, but you'll often see them strolling atound town, smiling at the world.