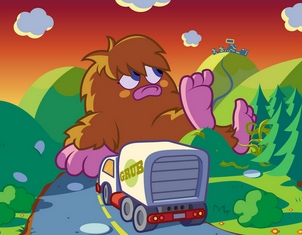 Elmore the Great is a giant Furi who is the default colors. He has only appeared the Daily Growl.
Growly Grub Day
Growly Grub Day all started many many Moshi moons ago when Elmore The Great  tripped over a Dingleberry Branch and blocked the road. The Grub Truck couldn't deliver to the Gross-ery that day and all the monsters were starving.
The community had to pull together to hoist Elmore out of the way, but it took all day. When the Grub Truck finally arrived, they declared the day an official Monstro City holiday and feasted until the sun went down.