Design a Moshling 2014
is the third Design a Moshling Competition.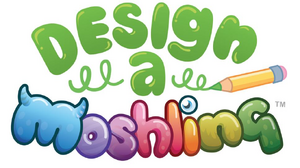 Winners and Runners-Up
Winner
Runners Up
Semi-Finalists
How to Win
Mr. Moshi's choice of top 10 Moshling designs will be made into in-game items that will be on sale in Monstro City. Vote for your favourite by decorating your room with your top pick! The most popular item will win the top prize! The 2nd, 3rd and 4th most popular Moshling designs will be the runners-up.
Prizes
First Prize
The winning design will be turned into an official Moshling! The winner will also receive a complete set of series 1-10 Moshling figurines and £500 worth of art supplies for their school!
Runners Up Prizes 
Three runners-up will each receive £500 worth of art supplies, plus a stack of Moshi Goodies!
Gallery