Cutie Pie is an ultra rare Moshling in the Foodies set.
Bio
Check out the wheels! These scrumptilicious Moshlings move like lightning. But so would you if you had turbo-charged sprinkles and a woowoo-ing cherry on your head. Wheelie YumYums are often forced to flee from hungry predators, leaving spongy crumbs in their way. Follow the trail and you might find one filling up with a few gallons of super sweet cocoa.
Habitat
A cakey aroma often wafts across Ramekin Plain, so I think CutiePie Canyon (where Wheelie YumYums are rumoured to live) could be located nearby.
Combination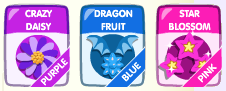 Gender
Female
Personality
Zoomtastic, Chummy, Quick-Witted.
Likes
Steaming hot drinks and fancy napkins.
Dislikes
Silly aprons and chocolate chip traffic police.
Trivia
She is probably the fastest Moshling (we are not sure about Splutnik's speed)