Coolio

Set
Foodies
Number
052
Species
Magical Sparklepop
Rarity
Rare
Coolio
is a rare Moshling from the
Foodies
set.
Personality
Deliquescent, Cool, Upbeat
Gender
Female
Biography 
I know it sounds a trifle abusrd, but these tubby Moshlings are enchanted. Whenever they need to chill, glittery sparks zing around their slurpy swirls accompanies by jingly-jangly nursery rhymes. This happens quite a lot because Magical Sparklepops go all gloopy if it gets too hot. That's why I always try to observe them when the sun is coming out. If the weather won't play ball, I hide behind a snowdrift and give them a quick blast with my hairdryer. It's sparkletastic! But what's with the funny waddle? Well, you try walking wearing a wafery tub.
Combination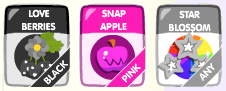 Likes
Whackcurrant sauce and crushed nuts.
Dislikes
Too much sun and big tongues.
Habitat
Magical Sparklepops prefer chilly areas - for obvious reasons. That's why you'll find them around Knickerbocker Nook in the Frozen Dessert Desert.
Trivia
Coolio used to be on the loading screen on Moshi Monsters.