Cleetus

Set
Yeehaws
Number
161
Species
Seal with a Reel
Rarity
Common
Cleetus
the Seal with a Reel is a common
Moshling
in the
Yeehaws
set. 
Personality
Biography
Believe it or not, Cleetus is afraid of water; so don't go trying to find him in any Moshi watery location, because he won't be there! His fishing reel isn't for fish, his reel is for collecting rusty hubcaps with and pretending that they are flying saucers.
Combination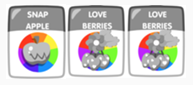 Likes
Fishy tastes, but only so far as fish paste and conspiracy theories.
Dislikes
Navy seals and fancy pants.
Habitat
If you're looking for a Seal with a Reel don't bother heading to Potion Ocean, or even Croak Creek because these crazy Moshlings are afraid of water!
Trivia
Cleetus made their first appearance in Issue #33 of the Moshi Monsters Magazine's stickers sheet.
Cleetus is featured in the Series 9 Figures.
Gallery
In-Game