Chirpy

Set
Cuties
Number
163
Species
Chipper Chafinch
Rarity
Rare
Chirpy
the Chipper Chaffinch is a rare
Moshling
in the
Cuties
set, who is a woodpecker.
Personality
Optimistic, jaunty, and cute.
Biography
Knock knock, who's there? No, its not a Perky Pecker, its a Chipper Chaffinch. But thats an easy mistake because these impossibly cute Moshlings are always pecking away at trees, tip-tapping messages to each other in mosh code. Peckity...peck...thud.
Combination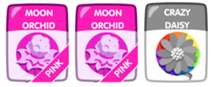 Likes
Flying south and knocking on wood.
Dislikes
Jet engines and eleven secret herbs and spices.
Habitat
In brightly painted bird boxes, high up in the trees of Wobbly Woods.
Facts
One of her dislikes is KFC.
She is the only Moshling attracted to Pink Moon Orchids.
She was the last moshling before a hiatus.
Chirpy likes migrating and pecking for bugs.