Cali

Set
Fishies
Number
072
Species
Valley Mermaid
Rarity
Rare
Cali is a rare Moshling in the Fishies set. She is a pink mermaid with purple hair. She is the only girl moshling in the Fishies.
Personality
Ditzy, Sassy, Caffeinated.
Gender
Female
Bio
Like, wow! There's something totally fishy going on here. When they're not freaking out over the latest koi band or knocking back cappuccinos at the local Starfishbucks, they're hooking up fellow Moshlings. In fact their hearts begin to flash whenever they sense romance. Whatever!
Combination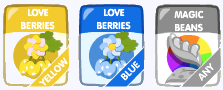 Likes
Seaweed sandwiches and chilling out in crates of ice
Dislikes
The Boogie Woogie Bluegill Boys and rusty anchors
Habitat
You can find Valley Mermaids fluncing around the new Sea Mall deep beneath Potion Ocean.
Trivia
She may be related to Uncle Scallops.
She is the rarest Moshling in the Fishies set.