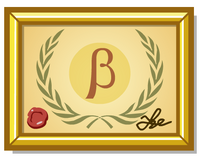 The Beta Tester Certificate is a certificate item in Moshi Monsters. It can no longer be obtained as the beta testing is no longer taking place.
Beta testing is testing before a game's release.
A lot of old players have the item, as they were beta testers. It was given out to players who beta tested Moshi Monsters in 2007.